Medior Business Technology Consultant
Medior Business Technology Consultant
Quatronic
Amsterdam
What is required?
A completed Master's degree in business and/or technology
Minimum of 2 years' experience in business consultancy and/or IT consultancy
Analytical, creative and problem solving skills
Good command of Dutch and English, both verbal and in writing
Enterprising, driven and result oriented
What will you get?
€3.300 - 4.500 gross p/m (depending on knowledge and experience)
Bonus scheme
40-hour working week
25 days of holiday
Extensive training program
Lease car, iPhone, laptop and NS Business Card
What will you do?
40% Developing and reviewing functionalities
10% Project consultation with customer
10% Supervising colleagues
10% Developing new propositions
10% Personal development
20% Working on technical design and architecture
This vacancy has been created based on interviews with employees to help you get a realistic preview of the job.
Ask a question directly
Wouter van der Meij
Partner and Business Technology consultant
Vacancy
As a Medior Business Technology consultant at Quatronic, you are responsible for the successful end result of projects. You are responsible for the project running smoothly. If, for example, there are uncertainties about what both the customer and Quatronic does, you are in charge of this. This also involves substantive and personal guidance from colleagues.
You usually work on a project with two or three Quatronic colleagues and some of the customer's employees, in which you take the lead. You kick off the project with a workshop at the customer's premises, you elaborate on conceptual ideas and you advise on how a functionality can best be built.  You discuss this with the client and determine, based on your analyses, what the technical design and underlying architecture will look like.
This is followed by the elaboration and construction of the functionalities. Guiding colleagues is a big part of this, for example when they are busy translating complex business logic into workable software. Besides the substantive work, you are also engaged in project management tasks, such as delivering reports, monitoring the planning and budget and ensuring smooth contact with the customer and other stakeholders. You are responsible for ensuring the quality of your project.
On Monday to Thursday all Quatronic consultants work at or for customers; on Friday everyone works for Quatronic. Then everyone  focuses  on personal development, knowledge sharing, developing new propositions for customers, organizing events or preparing a sales meeting.
If you enjoy solving complex, technical challenges and making them more accessible through low code solutions, and find it challenging to be critical and express your opinion to colleagues and customers, then this is a job for you.
Working week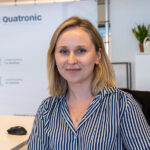 Medior Business Technology consultant
Justyna Slonecka
During an enjoyable working day, I brainstorm with colleagues about frozen ,complex systems at clients, and how best to deal with them. We discuss logical and often simpler approaches, which is inspiring.
During a less enjoyable day, I want to complete a functionality, but I still run into a technical issue. Then I have to go through all the low code to figure out the root cause.
08:00

09:00

10:00

11:00

12:00

13:00

14:00

15:00

16:00

17:00

18:00
A client wants an estimate on building a new functionality. How do you approach this?
This is a very specific functionality you haven't built before, so you start by doing research. You look for documentation and ask colleagues if they might have experience with this. Once you have some basic knowledge on paper, you start working on the conceptual design of the functionality. For example, you might make some sketches in PowerPoint or Figma (vector image editor and prototyping tool), which the customer can then 'click through' to see exactly how the functionality works.

You also analyze what needs to be done in terms of data structure, screens, logic, and links to other systems the customer works with. You give a time estimate to each task and process this in a proposal document. You ask a colleague to give feedback on this, after which you send the proposal to the customer for approval.
Junior Business Technology consultant
Medior Business Technology consultant
Senior Business Technology consultant
Working at Quatronic
Quatronic is a start-up with a clear mission: to be the very best in the development of low code applications. Quatronic strongly believes in the potential of low code and thinks it will play a crucial role in the digital transformation of organisations.
The organisation is well on its way to making this mission a reality! Quatronic was founded in 2018,  fully self-funded. Since then, Quatronic has grown into a company with twenty eight employees. The demand for improving business applications continues to grow, and Quatronic likes to help more organisations shape and realise their digital ambitions. And that is why Quatronic needs you.
Headquarters in Amsterdam

Active in 3 countries

28 employees

25% / 75%

Average age 30

Business Casual
Colleagues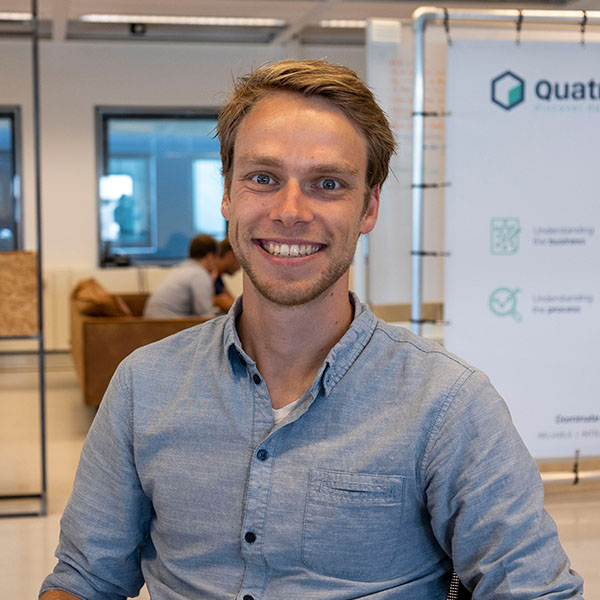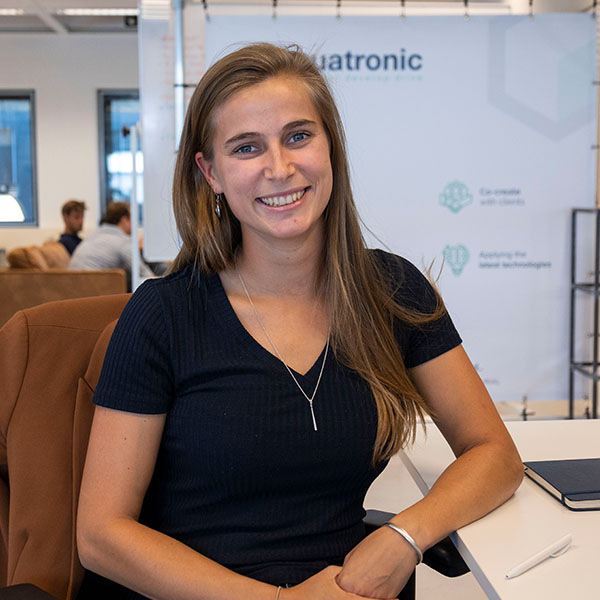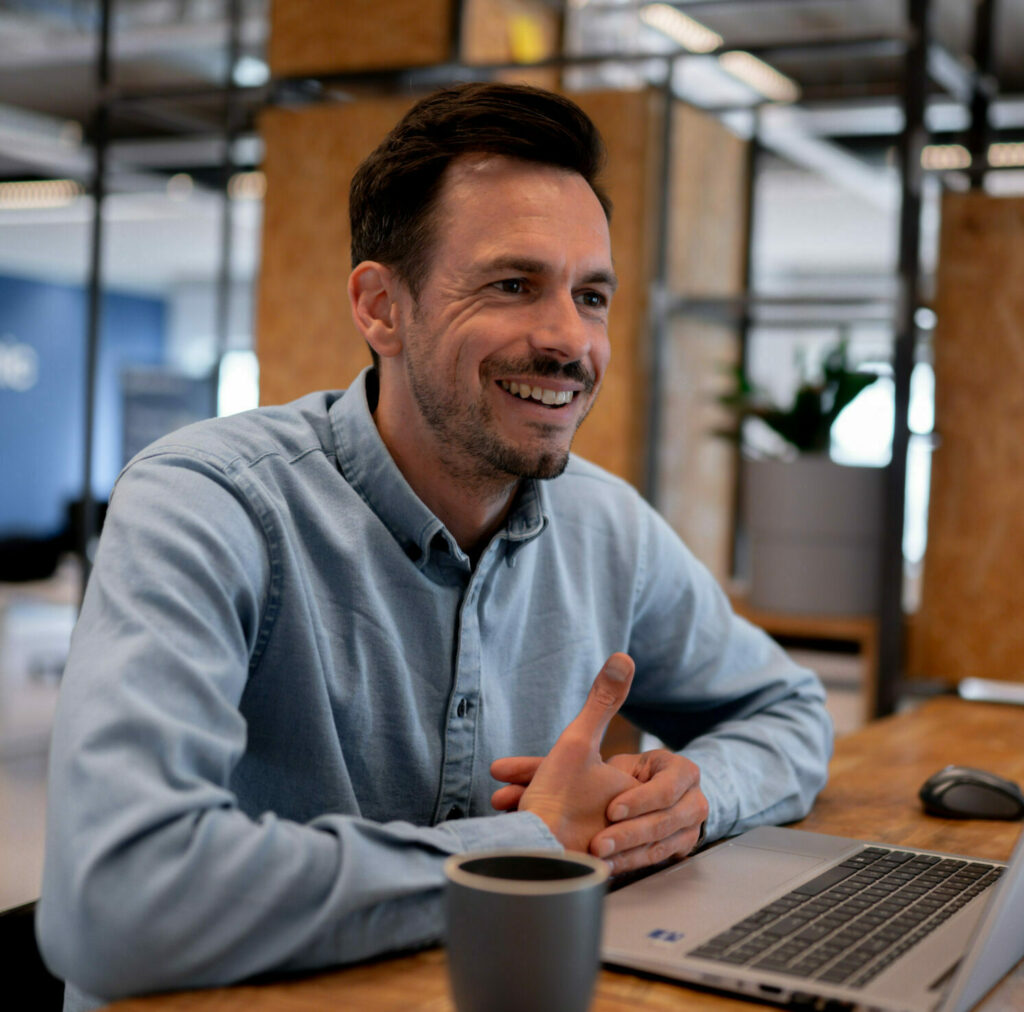 Remco Snijders - Business Technology consultant
Why did you decide to work for this company?
Quatronic immediately felt like a group of friends carrying out projects for their clients. In addition, the focus on quality and the desire to constantly improve one's results appealed to me. For me, it was a very good combination of creativity, analytical thinking and helping people.
What was your previous job?
Business Technology Consultant at First Consulting.
What do you do in your spare time?
Working out and going out for drinks.
Natalie Brik - Business Technology consultant
Why did you decide to work for this company?
My interest in Quatronic was aroused by the enthusiastic vacancy to contribute to this start-up. The atmosphere of the company convinced me. Added to this are the young people, the ambition and the office in B. I was looking for work in which technology and consultancy come together and in which I can also use my creativity, and this I found in the position as Business Technology consultant.
What was your previous job?
Student Consultant at IRP Delft.
What do you do in your spare time?
Cycling, windsurfing and online shopping.
Auke Akkerman - Senior Business Technology Consultant
Why did you decide to work for this company?
I wanted to work for Quatronic because I think the digitalization in companies is handled incorrectly. Too much focus on big data and machine-learing and way too less focus on supportive systems for daily use. At Quatronic we aim to digitalize processes and make them easier. Which results in; workflows where all kind of excel sheets and paperwork is needed will be made unnecessary. That immediately generates profit!
What was your previous job?
Programme Manager Analytics at Alliander
What do you do in your spare time?
Soccer, sailing, cooking and building marble tracks with my child
Why did you decide to work for this company?

Application process
First interview (introduction) with one of the Partners
Second interview with the two other Partners
Third interview with other partner
Offer