Junior Business Technology Consultant
Junior Business Technology Consultant
Quatronic
Amsterdam
What is required?
Master's degree in business and/or technology
Analytical, creative and problem solving skills
Good command of Dutch and English, both verbally and in writing
Enterprising, driven and result oriented
What will you get?
From €2.900 gross p/m (depending on knowledge and experience)
Bonus scheme
40-hour working week
25 days holiday
Extensive training programme
Lease car, iPhone, laptop and NS Business Card
What will you do?
50% Developing and reviewing functionalities
10% Developing customer processes
10% Implementing internal processes
10% Personal development
20% Project consultation with customer
This vacancy has been created based on interviews with employees to help you get a realistic preview of the job.
Ask a question directly
Wouter van der Meij
Partner and Business Technology Consultant
Vacancy
As a Junior Business Technology Consultant at Quatronic, you are responsible for developing low code solutions for customers. You dive into the customers' business processes and think about  how they can be improved and more digital. You do this by developing functionalities based on low code: a visual way of programming in which you build flows, screens and logic. Of course, this includes reviews by colleagues and feedback rounds from the customer, until the customer is satisfied and the solution can be implemented.
In the beginning, you will learn about low code and the platform that Quatronic uses for this, but after a year you may already have a lot of responsibility. Think for example of attending introductory meetings with customers and coordinating matters with them such as budget and planning.
You usually work with two or three Quatronic consultants in a team, in sprints of two weeks. The first few weeks at Quatronic there is plenty of time to master low code in OutSystems.
On Monday to Thursday all Quatronic consultants work at or for customers; on Friday everyone works for Quatronic. Then everyone focuses on personal development, knowledge sharing, developing new propositions for customers, organising events or preparing a sales meeting.
If you enjoy immersing yourself in quickly building digital applications for customers, and you don't mind that new insights may mean your first version has to be substantially modified or is no longer usable, then this is a job for you.
Working week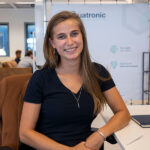 Junior Business Technology Consultant
Natalie Brik
During an enjoyable working day, I brainstorm with colleagues about frozen ,complex systems at clients, and how best to deal with them. We discuss logical and often simpler approaches, which is inspiring.
During a less enjoyable day, I want to complete a functionality, but I still run into a technical issue. Then I have to go through all the low code to figure out the root cause.
08:00

09:00

10:00

11:00

12:00

13:00

14:00

15:00

16:00

17:00

18:00
You are working on a large development project that also involves another implementation partner. How do you proceed?
It is important that you engage with the other party, and stay actively engaged. Everything Quatronic develops must correspond and match with the other solution. Therefore, you work out schematically how the customer's process works and how the functionalities Quatronic develops align with it. It is important you are in agreement with the other party on this, so you consult a lot.

While you are a technical specialist and business consultant in one, the other party may have three different contact persons for this, for example a Business Owner, Project Manager and Implementation Specialist. This can make communication and progress within the project a little less smooth, so you have to take this into account.

After this, you define exactly what the interaction between all functionalities will look like and who will have what responsibilities. It is important that you record this accurately and that both parties actually work according to these agreements.
Growth
When you come to work at Quatronic, you start with a six-week onboarding program. The focus is on increasing your technical skills and your business skills. There is also an internal training programme with three themes; Delivery, Social and Entrepreneurial. Each theme provides a number of training courses such as personal leadership, communication and presentation skills and relationship management. You will also start a two-year intensive training and mentoring program. The focus here is on the development of important consultancy skills and personal growth. More information can be found here: https://www.quatronic.nl/over-quatronic/trainingsprogramma/.
Junior Business Technology consultant
Medior Business Technology consultant
Senior Business Technology consultant
Working at Quatronic
Quatronic is a start-up with a clear mission: to be the very best in the development of low code applications. Quatronic strongly believes in the potential of low code and thinks it will play a crucial role in the digital transformation of organisations.
The organisation is well on its way to making this mission a reality! Quatronic was founded in 2018,  fully self-funded. Since then, Quatronic has grown into a company with twenty eight employees. The demand for improving business applications continues to grow, and Quatronic likes to help more organisations shape and realise their digital ambitions. And that is why Quatronic needs you.
Headquarters in Amsterdam

Active in 3 countries

28 employees

25% / 75%

Average age 30

Business Casual
Colleagues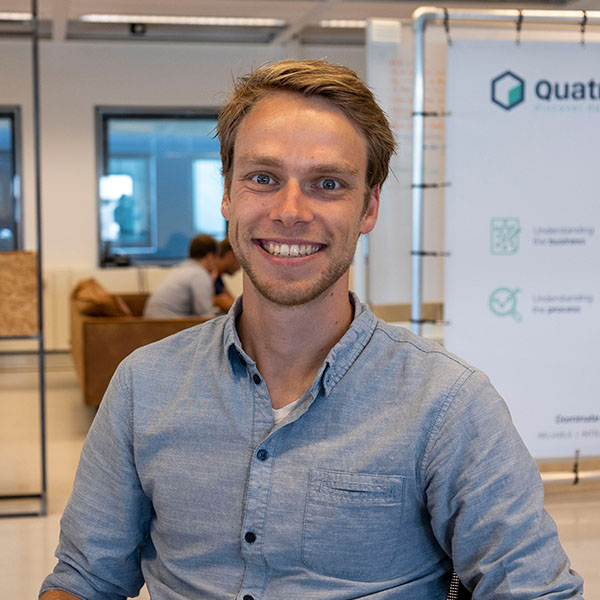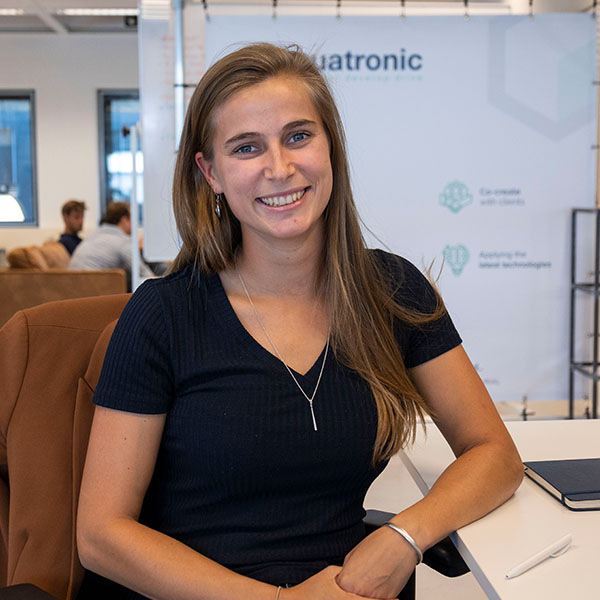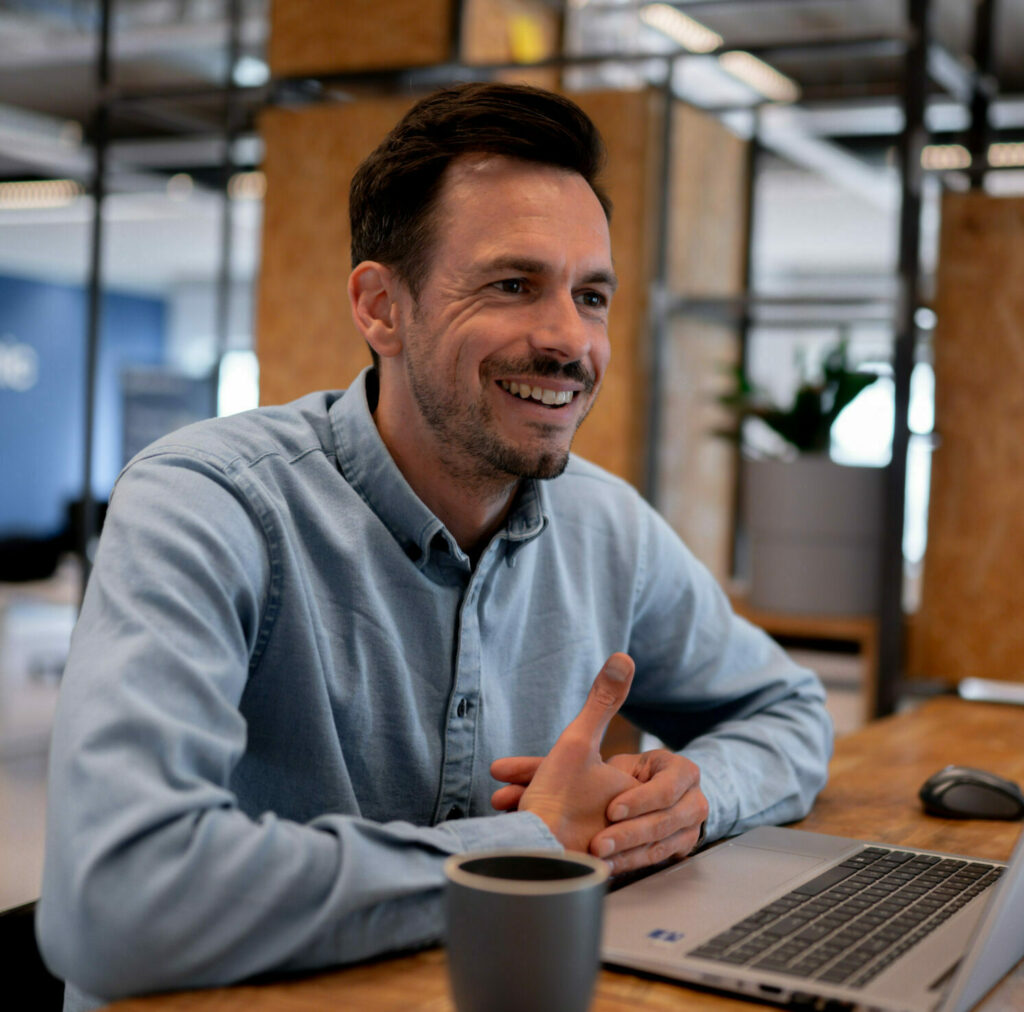 Remco Snijders - Business Technology consultant
Why did you decide to work for this company?
Quatronic immediately felt like a group of friends carrying out projects for their clients. In addition, the focus on quality and the desire to constantly improve one's results appealed to me. For me, it was a very good combination of creativity, analytical thinking and helping people.
What was your previous job?
Business Technology Consultant at First Consulting.
What do you do in your spare time?
Working out and going out for drinks.
Natalie Brik - Business Technology consultant
Why did you decide to work for this company?
My interest in Quatronic was aroused by the enthusiastic vacancy to contribute to this start-up. The atmosphere of the company convinced me. Added to this are the young people, the ambition and the office in B. I was looking for work in which technology and consultancy come together and in which I can also use my creativity, and this I found in the position as Business Technology consultant.
What was your previous job?
Student Consultant at IRP Delft.
What do you do in your spare time?
Cycling, windsurfing and online shopping.
Auke Akkerman - Senior Business Technology Consultant
Why did you decide to work for this company?
I wanted to work for Quatronic because I think the digitalization in companies is handled incorrectly. Too much focus on big data and machine-learing and way too less focus on supportive systems for daily use. At Quatronic we aim to digitalize processes and make them easier. Which results in; workflows where all kind of excel sheets and paperwork is needed will be made unnecessary. That immediately generates profit!
What was your previous job?
Programme Manager Analytics at Alliander
What do you do in your spare time?
Soccer, sailing, cooking and building marble tracks with my child
Why did you decide to work for this company?

Application process
First meeting (acquaintance) with one of the Partners
Second meeting with two other Partners
Third meeting with other Partner
Offer